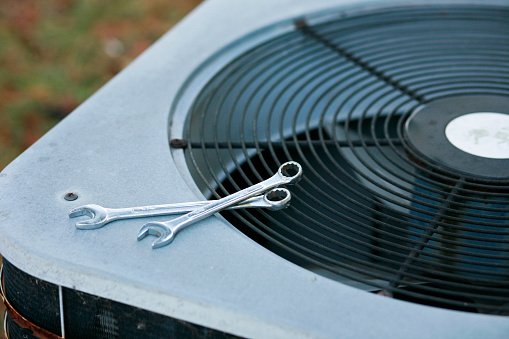 Regular AC Maintenance: Why Your System Needs It & 6 Signs You're Definitely Overdue
Without fail, air conditioning issues always seem to happen at the worst times — like on the hottest day of the year or right when you plan on having guests over. That's because you can't just turn your AC on high after a long winter or mild spring and expect it to run flawlessly. These units are complex and just like a lot of other equipment in your home, they need routine, seasonal maintenance.
Have you been putting it off? Our goal is to help you see why that's a bad idea. Here are a couple of reasons why your AC system needs regular maintenance and a few signs that you're overdue for a repair or replacement.
Prevent a dreaded breakdown
This is the worst case scenario, but it's also not uncommon. The main reason to call a pro each year is to avoid a breakdown right when you need your system running the most. During their routine visit, they'll clean the entire system, check for any faulty parts, look at the electrical and compressor systems, and fine tune any components that need it. An expert will make sure everything will run smoothly in the upcoming season without any unwanted surprises.
Save on repair bills
Even if your system isn't quite on the brink of a breakdown, it may have underlying issues that are preventing it from running properly — even if it isn't that obvious. By putting off a maintenance check, you're only allowing those issues to continue doing harm to your system. Why a repair may be needed after the annual inspection, it will likely be a lot cheaper than if you let it go for another couple of years. Why wait?
Prolong its lifespan
Everyone wants their AC unit to keep running as long as possible — replacements are expensive! A professional tune-up every year is the simplest way to prolong your system's lifespan. By inspecting and fixing any issues in regular intervals, you can prevent one part of the system impacting the others and taking its toll on the whole unit.Fun fact: units that are regularly maintained can last up to 15 years without a replacement.

Boost your energy efficiency
Running your system in the spring and summer obviously isn't free. But with those bills being higher than ever, anything you can do to keep them low without sacrificing your comfort is worth it, right? With the cleaning and repairs of a routine maintenance visit, your system can run more efficiently, reducing electricity consumption and saving you up to a couple of hundreds of dollars a year depending on the age of your unit.
Thinking it may be time for a professional checkup? If we haven't convinced you to make the call yet, here are some red flags that let you know for sure.
Hot spots. Your AC should be cooling evenly throughout your home. If some areas are warmer or cooler than others, there may be an issue with one of the system's components.
Rising Energy Bills. We know everything is on the rise right now, but keeping an eye on your bill month to month may help you notice some increases that don't quite make sense in relation to your usage. This is where even just a good clean can make a huge difference.
Thermostat Issues. As your AC command center, if your thermostat isn't communicating properly with your unit then it may be a system issue.
Little or Warm Air. If your vents are blowing warm air or no air at all, you definitely have a problem that a professional can help address.
Loud Noises or Strange Odors. When your AC system is running properly, neither of these things should be happening.
Freon or Water Leaks Around the Unit. Moisture leaking in or around your system is likely an indication of a refrigerant leak. Freon is poisonous, so contact a pro immediately.
To learn more about how to keep your energy bills as low as possible and your family as comfortable as possible this summer, the experts at Madsen Inc. are here to help. Contact us today to schedule your annual AC maintenance check today.