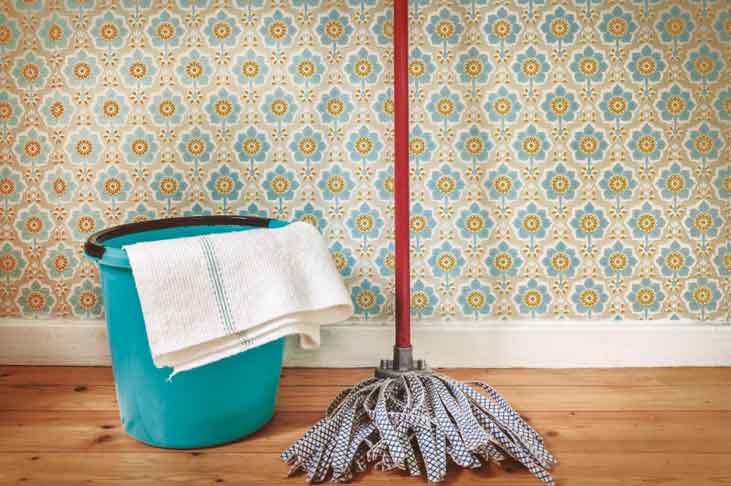 8 Pro Tips to Make Spring Cleaning a Breeze
Rising temperatures. Chirping birds. Blooming flowers… The first signs of spring are exciting! But what's not so exciting about this time of year? Spring cleaning. The truth is sometimes the hardest part is simply getting started. That's why we've put together our favorite tips to help you freshen up both inside and out. Check out these 8 pro tips to make this year's spring cleaning a breeze.
Plan to Clean Room-By-Room
Approach your spring clean one room at a time. Focusing on just one space is the best way to get a thorough clean and actually feel the progress you're making. Make checklists for each room of the different things you want to accomplish and focus on items that have been neglected the longest first. Plan out what days you want to tackle which rooms, and get the whole family on-board to be as efficient as possible!
Also, take this opportunity to make some small changes that transform a room from feeling dark and dense to feeling light and fresh. Add colorful pillows, swap out heavy comforters and blankets, incorporate greens and flowers (both real and fake!), and replace darker table linens. Hello, spring!
And to Clean Top to Bottom
Makes sense, right? By starting high with ceiling fans, walls, and tall windows, you can force debris downward and prevent having to re-dust or reclean multiple times. Grab a vacuum with an extension hose to nab cobwebs and dust from up high then move on to furniture and countertops before finishing up with the floors.
Organize Your Kitchen Pantry… Finally
Stop tossing away expired or stale pantry items just because you forgot you even had them. It's time to invest in some shelf organizers and reusable containers with airtight lids. Then place newer items toward the back and items you use more regularly at eye-level. Anything the kids should have or need access to should be within their reach so they won't always need to ask for your help.

Get Windows Really Clear – and Ready for Rain
Even if you wipe down the inside of your windows pretty regularly, you'll never achieve that eye-catching clean until you take the time to open up and work the outside too. A steam cleaner and squeegee to wash away spots and smudges on the outside panes is a great alternative to a chemical cleaner, and choose a cloudy day, so you can make sure the sun doesn't dry the cleaner before you're finished.
Also — don't forget to check both windows and doors for any leaks or drafts, particularly near the corners. Chipped or peeling paint can also be a sign of water intrusion, so if you see it, seal these up before April Showers bring more problems.
Be Green When You Clean
The best way to be green when you freshen up is keeping cleaners to a minimum. You can still get a real deep clean without exposing your family to dangerous toxins and chemicals with helpful hacks that use natural cleaners, such as:
A Steam cleaner works wonders on everything from floors and carpets to microwaves and bathrooms.
Use baking soda to clean stainless steel sinks. Just add water and scrub with a sponge. Some salt can add an extra heavy-duty clean.
Place a wet dryer sheet on your ceramic stove top to remove burnt-on residue in a non-abrasive way. Leave for 15 minutes before rubbing away.
Get a streak-free shine on windows and mirrors with newspaper. Spray a mixture of ¼ cup of white vinegar, 2 cups of water, and 2 teaspoons of liquid soap to the surface and the ink on the newspaper will act as a gentle abrasive as you wipe away.
Heat lemon juice and rinds in water to loosen grime build-up in your microwave. Squeeze the juice of half a lemon and add rinds into ½ a cup of water, microwave for 3 minutes, and let sit for 5 minutes before opening.
Stack Clothes Vertically
As you swap your winter wardrobe for spring and summer attire, think about how you organize them. Instead of folding everything flat, stack your clothing vertically, so you can see all your options and access them more easily. And to help keep everything in place, try attaching grippy Velcro strips from one end of the drawer to the other to help keep dividers and organizers from sliding around as you take items in and out.

Don't Forget About Your Air
One of the most overlooked parts of spring cleaning is also one of the most important! Replacing old HVAC units and filters is the best way to ensure your family will breath healthy all spring. After a long winter, these dirty air filters won't work as well in catching dust and other pollutants, so it's time to get a new one. And try swapping that standard filter with one that has a higher MERV rating to catch smaller particles that cause irritations during allergy season.
Maybe it's also time for that routine maintenance? Contact us to have one of our HVAC experts come out and check all the components of your unit and make any necessary repairs to ensure it'll provide the best airflow and quality for your family this season.
Get Ready to Entertain
Outdoor entertaining season is upon us! Rain may wash away some dirt and pollen from your patio furniture, but they'll need a little scrub down too. A mild detergent and warm water will go a long way to keep furniture looking and feeling its best. Use a spray bottle and sponge or gentle scrubber to wash cushions and get all corners clean before rinsing thoroughly.And before you fire up the grill for the first time, remove the grates and soak them for 15 minutes before scrubbing clean with a wire brush to make cleaning easier. Inside the grill, known as "the grill box," should also be scraped with a thin flat tool or old spatula to remove as much caked-on gunk as possible. Inspect burners for any signs of corrosion or blockage (spider eggs are a common sight here!) and use a wire brush to clean deep into the flame holes. Lastly, heat the grill at least 10 minutes before throwing on the burgers and dogs.

With these helpful tips, you don't have to dread spring cleaning. So before the season is in full bloom and bbqs, sporting events, pool parties, and more fill up your schedule, make sure your home is looking and feeling its best.